Profile of Guest Speaker
Mr. Shinoharu TATEKAWA: August 23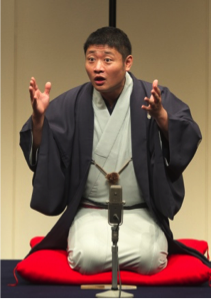 SHINOHARU TATEKAWA is a Rakugo (Japanese traditional comic storytelling) performer born in Osaka, Japan. He moved to New York at the age of eight, and since then, has spent a total of 7 years in the U.S. After graduating from Yale University in 1999, he worked in Mitsui & Co. Ltd for three and a half years. In 2002, he was so greatly impressed and inspired when he attended Shinosuke Tatekawa's Rakugo performance that he decided to give up his corporate position to become a professional Rakugo performer himself by taking up a discipleship with Shinosuke Tatekawa.
After training in the art of Rakugo for eight and a half years, he was promoted to "Futatsume" (a recognized rank for independent Rakugo performers). He performs both traditional stories, and original stories, as well as in English to bring this art form to an international audience.
In 2011, he gave his first solo Rakugo performance in Singapore. In 2012, he was invited to the Singapore International Storytelling Festival (SISF), where he was the only Japanese performer featured. Since then, he has been performing in Singapore twice a year.
Presently, he travels around Japan and the world on a mission of bringing laughter to everyone. He has also published three books, including an English Rakugo CD book.
Mr. Norio KATAOKA: August 23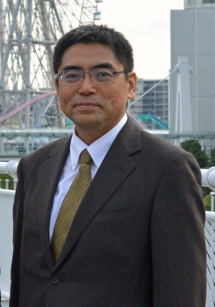 Library Research Study Teacher, Head Librarian, Seikyo Gakuen Junior & Senior High School, Osaka. Japan Society of Library and Information Science Member
Mr. Norio Kataoka has been a judging committee of 'Library Research Competition' by Library Advancement Foundation for 18 years, and Kataoka himself received 'Toshokan no Gakko (School of Libraries)'Special Award in the first competition in 1997 for his research project titled 'Gakko Toshokan wo Riyo Shita Sogo Rika, Kadai Kenkyu no Jissen'('Conducting Research Studies in General Science and Effective Use of School Libraries'). In 2013, Kataoka and Seikyo Gakuen Junior & Senior High School Library 'Libraria' was awarded the 44th Japan School Library Association award for their research project '"Nandemo Manaberu Gakko Toshokan" wo Tsukuru : Bukku Katarogu & Detashu' ('Making Our Library a "We-Can-Learn-Anything" Space : Lists of Useful Books for Students and Tips for Finding and Sorting Research Topics') and 'Asa no Dokusho Taisho' ('Morning Reading') award by Takahashi Matsunosuke Memorial Honoring Foundation in the following year.
Books (available only in Japanese):
'Joho Daikokaijutsu : Tema no Tsukamikata, Joho no Shirabekata, Joho no Matomekata' ('Sailing Strategies for the Sea of Information : How to Find Topics, to Conduct Research, and to Organize Collected Information') (Librio Shuppan, 1997)
'Kodomo to Hon wo Tsunagu : Gakko Toshokan no Kanosei'('Connecting Children with Books : Potentials of School Libraries') (Iwanami Shoten Publishers, 1999)
'Kukku to Tamajiro no Joho Daikokaijutsu : Toshokan kara Hajimeru Sogo Gakushu, Shirabe Gakushu'('Sailing in the Sea of Information with Kukku and Tamajiro : Starting Integrated Studies and Research Studies in Libraries') (Librio Shuppan, 2001)